Bamboo accessories
Why bamboo?
Because it's crazy, it serves everything, even for the worst, bamboo is the best!
---
Gogo Bamboo Gadget!
Bamboo is a plant on the balance sheet
promising ecological:
It grows very quickly, does not require pesticides, and it enriches the air with precious oxygen. Abundant, it has many advantages thanks to its natural properties!
Gogo gadget at the picnic!
But also for the lunch break, birthdays, to take with you for a snack without adding unnecessary waste ...

Opt for bamboo, it's soft, anti-bacterial, resistant, raw or covered with a natural resin.

Comes with a pretty pouch as in the picture, or with a side opening ... discover all the possibilities:
follow this link
☞
No plastic! Bamboo goal
Léonore thinks that the change is us!

It is possible to improve our daily life while respecting the environment.

Eco makes sense:
A straw to wow guests and amuse children, it's possible!

100% plastic free
100% recyclable

Bamboo, of course!
I want to try them!
Are you tired of the smell that reigns in your fridge?


This little cloud is here to take care of the problem!
Thanks to its 100% compostable content:


bamboo activated carbon:
traps bad odors
regulates humidity.
I want to know more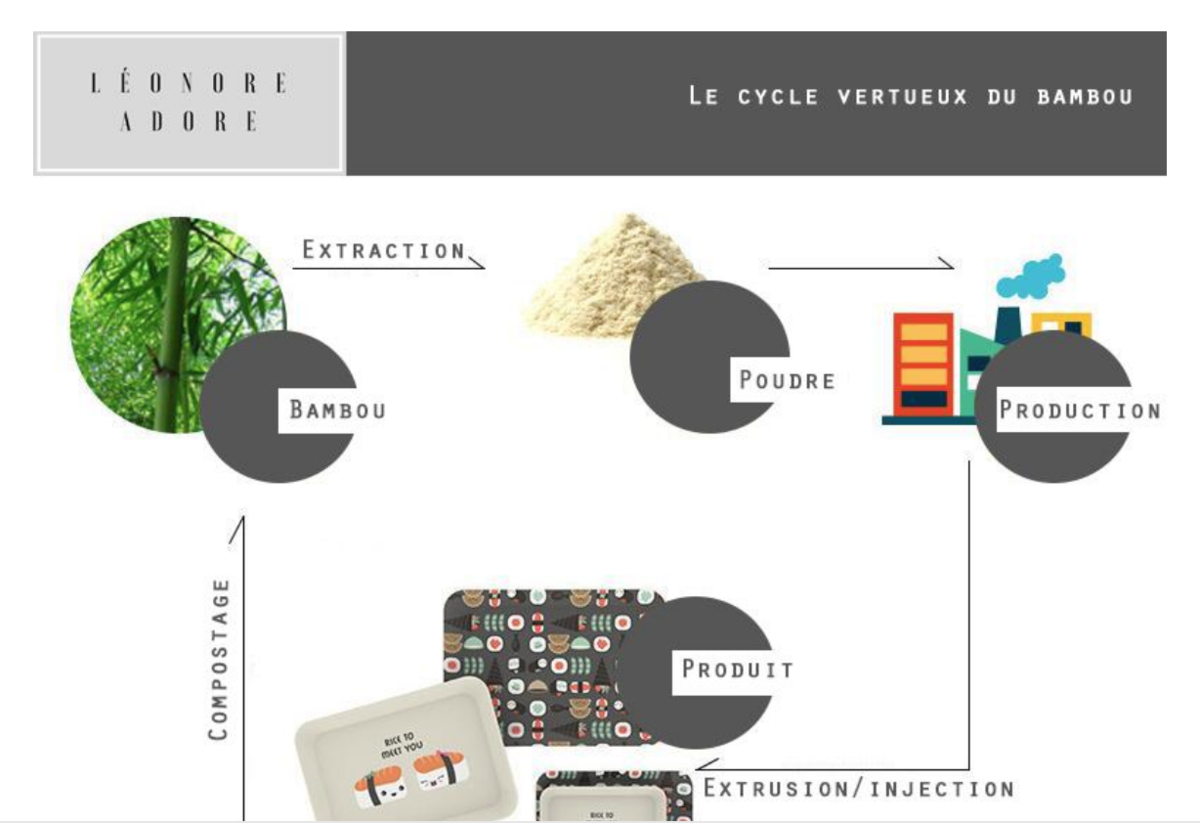 Your little one does not eat with chopsticks?
Believe Leonore, he will learn very quickly. And he can still use the spoon and the fork. A practical little ecological box for a made-to-measure snack. Well done moms and dads!
it's this way!
Coal to brush your teeth!
Do you want to get rid of tobacco stains without harming your tooth enamel?

Léonore has tested the bamboo & coconut activated charcoal for you and confirms it: it works.
But it stains your sink, you will probably need a bamboo microfiber cloth to clean it properly.

Until then, your teeth will be white and glowing with health, and that's what you wanted, right?
Leonore Adore.


Essential
Washing your face in Bamboo
Thanks to the natural properties of bamboo, purify your skin and take care of yourself!
I take care of myself
When to do the dishes ...
Remain a chore, but that it lasts less, it is already won!
also ideal for washing the car
decontaminates everything
protect hands
With bamboo, life is sweeter!
Need clean air?
Whether at home, in your car, your luggage, your wardrobe, your fridge, your bathroom or your sports bag:


activated carbon is your solution!


Neutralizes bad odors
regulates humidity
absorbs negative ions from electromagnetic waves
Léonore loves this natural raw material which conceals purifying assets!


Little worries about odors in sneakers?
In elongated format, this small bag fits in your shoes and no more problem of foot odors!

Finally cleared!

There will now reign a healthy air and a friendly atmosphere around your shoe cabinet!



Afraid to take off your shoes when you arrive?
The solution is in the bamboo activated carbon, directly impregnated in these soles: Slip them in your sneakers, your feet will be delighted and comfortable in all circumstances.
no more arguments when arriving home
no shame at the doctor
you can even start yoga
Take care of yourself and the planet!

Lenore thanks you!